ImageRamp Family of Document Processing Automation and Document Capture Products
Simple, Scalable Document Process Automation Tools 
The ImageRamp family of document process tools help streamline your paper workflows with ease. Complex tasks are made simple to intuitively secure and accelerate your documents throughout your organization. Simple scan to watched folders and your files are data mined, and delivered with full automation.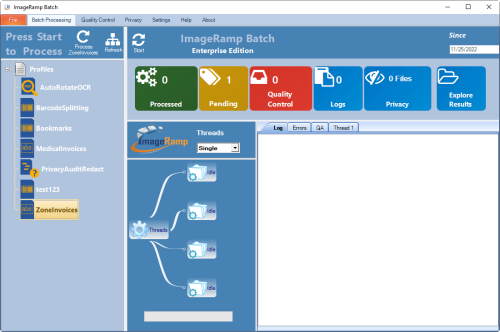 ---
 

 

 

 

 

Easily import PDF, Image, and Word documents into an easy-to-use environment to securely annotate, redact, encrypt and assemble your documents. Composer's Privacy Inspector detects potential document content that may require privacy data redaction.  Learn more.
 
ImageRamp Batch is a simple-to-use folder processing tool to automate your file document capture needs.  Whether you are extracting metadata through OCR or barcodes for file naming, splitting or routing, ImageRamp Batch easily integrates this information into your environment.  Process a folder of documents on demand or set them to be "watched" for automatic processing. ImageRamp Batch delivers stress-free document processing automation. Learn more.
---
ImageRamp 9.4 Family of Products Key Features and Benefits: 
NEW

Redact Barcodes from scanned Documents



NEW Improved Admin user interface
NEW Watch over 20 folders to automate File naming and Folder delivery from extracted content
NEW Supports up to 5 OCR Zones with highest confidence dual engine voting for improved data mining accuracy
NEW Set up Anchor Words to help align zones across unstructured documents
NEW Zone and regular expression preview simplifies setup using complex Regex scripts
NEW Confidence based 1D and 2D barcode recognition for use in splitting, naming, bookmarking or indexing your documents
NEW Image processing tools remove gridlines, smooth edges and perform other tasks to improve Zone OCR results
Inspect your documents for Privacy Infractions to align with PII, PHI and GDPR requirements
Perform Redaction on Image and Text based files to ensure your personal identity information is secure
Data mine for text found anywhere within your document using Regular Expressions or Zonal OCR
Automate File Naming and Folder creation from extracted content  See the SlideShare.
Watch for files to process multiple folders or process any folder on demandManage unlimited job profiles with individual folder assignments
Read 1D or 2D barcodes (including QR codes) for splitting, file naming, routing and more. See the Batch Processing on Plustek Scanner Video
NEW confidence based barcode and Zone OCR recognition
Preview page splits and validate barcode reading and settings
Use Regular Expression scripts to automate text extraction or splitting. See the SlideShare.
Clean up images to increase accuracy and reduce storage needs See the SlideShare.
Use barcodes to create PDF bookmarks  
Easy, clear dashboard style user interface throughout the product line for minimal training and ease of use
Free Tools
Composer PDF  - Assemble PDF files from PDF, Image OR MS Word files and add security or Privacy redaction.
Scan Separator  - create barcode coversheets with this free tool.
Privacy Inspector - (Composer Free Edition) - Identify potential Privacy risks from PDF Text, Scanned Files and MSWord documents.