ImageRamp Version 8.8 Provides Faster, More Accurate PDF and Image Document Process Automation

Our affordable batch document indexing solution, ImageRamp™ Solutions, just got a facelift.  With its easy-to-use dashboard and faster processing, the ImageRamp family offers an intuitive way to add extract information or metadata from your scanned or PDF/MSWord documents to help with database indexing, file storage and folder creation.  DOWNLOAD NOW.
| | | | |
| --- | --- | --- | --- |
|   | Integration with SharePoint | Confidence based Text and Barcode processing | Bookmarking from Barcodes |
|   | |   | |
|   | A new dashboard interface makes it easier to use with access to learning videos and notifications. | Multi-threaded processing allows significant throughput improvement to your Document Process Automation workflow.  Choose single, Dual, or Quad process threading for truly parallel processing throughput. | Quality Controls are in place as documents are processed.  Set confidence levels and files not meeting conditions you set are stored in a quality control queue for you to validate and resolve. |
|   | | | |
|   | Confidence scores make it easy to resolve OCR issues like markers across the text. | Use Zone regions and OCR Confidence to extract the data import to you. | Incorporate Regular Expression Scripts to extract specific text strings from OCR and text based files.  With two built in OCR engines, you'll get the accuracy you deserve. |
|   |   |   |   |
|   | Simple Index and Search on documents stored into Access, SharePoint or SQL Server. | Documents processed are audited so you can review rejects, quality control and processed documents. | Perform Privacy Audits on Word, PDF Text, or scanned files.  We'll perform OCR and identify identity threats |
Along with faster PDF reading and rendering and faster JPEG and PNG compression ImageRamp Batch received several enhancements in the new version 8 of the software. Several of the enhancements add up to much faster processing and OCR improvements.
Other Process Automation Enhancements Include:
Optimized memory management 
57% faster reading a PDF
20% faster rendering a PDF
Improved text search and text extraction
Updated Zone OCR handling
Better support for AES 256 encryption
Improved blank page detection accuracy
Complete PDF file type generation of PDF/A: PDF/A -1a, PDF/A -1b, PDF/A -2a, PDF/A -2b, PDF/A -2u, PDF/A -3a, PDF/A -3b and PDF/A -3u
Improved parsing, writing, rendering, memory usage, and speed
Confidence based barcode recognition

PDF 2.0 support
Improved auto-deskew accuracy
Dramatically improved all borders detection filters
Improved image compression speed 
Up to 25% faster decoding JPEG2000
About 10-15% faster compressing JPEG images on 64-bit systems
30% up to 50% faster compressing PNG images with predictors
Improved OCR tables processing.
Improvements in OCR recognition quality
Includes ImageRamp Composer for PDF assembly from Word, PDF and Image Files
Automated Privacy Redaction for gender, SSN, Credit Cards, and more
File Size Management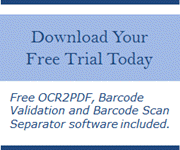 Today businesses demand that the information in their documents is seamlessly available to users. With ImageRamp Batch, easily see the document image, extract the key information and incorporate the data into key Enterprise Content Management (ECM), Electronic Medical Records (EMR), Electronic Resource Planning (ERP) or line of business software where it can be shared and used.
Free Tools Included with Trial Download and Purchase
ImageRamp OCR2PDF Utility

Create searchable PDF documents from your scanned archives with this free tool. Convert and review the results in a unique side-by-side viewer with synchronized zooming and page flippers.

Barcode Validator Utility

The ImageRamp Barcode Validator utility, is a free tool to verify your barcodes are located on scanned documents and confirm the information contained in the barcode before you begin a data capture job.

Scan Separator

Create barcode separation sheets that can be used during batch processing to route, index, split and name your documents. This tool is now integrated into the ImageRamp interface so you can launch it from within ImageRamp.
Learn more at ImageRamp and This email address is being protected from spambots. You need JavaScript enabled to view it. us today to schedule your personalized web demo of ImageRamp.