Try and Buy DocuFi Products
Access trial software or request a live demo to preview our solutions.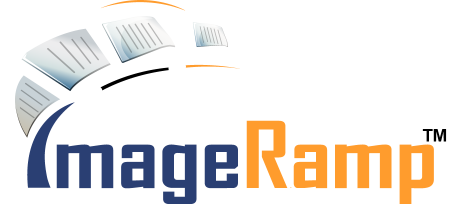 Download our most popular solution for your document processing needs. You'll get ImageRamp Batch and Indexer with a 20day trial license, ImageRamp PDF Composer, and three fully functioning FREE tools to produce OCR'd PDF, create barcode separation sheets, and validate barcode splits. Download now.
Start simple and FREE with ImageRamp PDF Composer. Easily import PDF, Image, and Word documents into an easy-to-use environment to securely annotate, redact, encrypt and assemble your documents. Composer's Privacy Inspector detects potential document content that may require privacy data redaction. File Naming and Separation based on extracting zone OCR text or barcode data adds additional automation of document tasks with the Workflow edition. Seamlessly integrate with desktop scanning applications like Fujitsu ScanSnap Manager.
With ImageRamp™ Indexer, create searchable information about your scanned files for a database or repository (local, network, cloud) as an effective means of scanning, organizing, distributing and hosting documents electronically. Use ImageRamp Indexer's intuitive interface to create reusable templates identifying index fields, default values and target databases to capture your vital document information. Data can include information extracted from barcodes or mined-text from Zone OCR as well as date and time stamps and free form text validated by regular expression scripts or from drop down lists.
ImageRamp™ Batch provides unattended folder watching and conversion, OCR, image clean-up, barcode splitting, data-mining, automatic file and folder naming, and much more. Three free tools are included. Scan Separator creates barcode coversheets. OCR2PDF is an OCR processing tool for converting up to 10 pages into intelligent and searchable PDF format. Barcode Validator verifies splits and settings of your barcode split pages.
Learn About Our ImageRamp Product Family
The ImageRamp™ family of products provides simple, flexible and intuitive solutions that are ideal for your batch document capture needs. Scaled to meet your budget and requirements, ImageRamp is designed to process your documents scanned to folders from any document scanner or MFP device to a folder. Let ImageRamp handle your document conversion and processing needs. Or ImageRamp works with existing electronic PDF files captured through PDF print streams or from any other text-based source. Let us understand your processing needs and we can quote the exact product and product level needed for your workflow.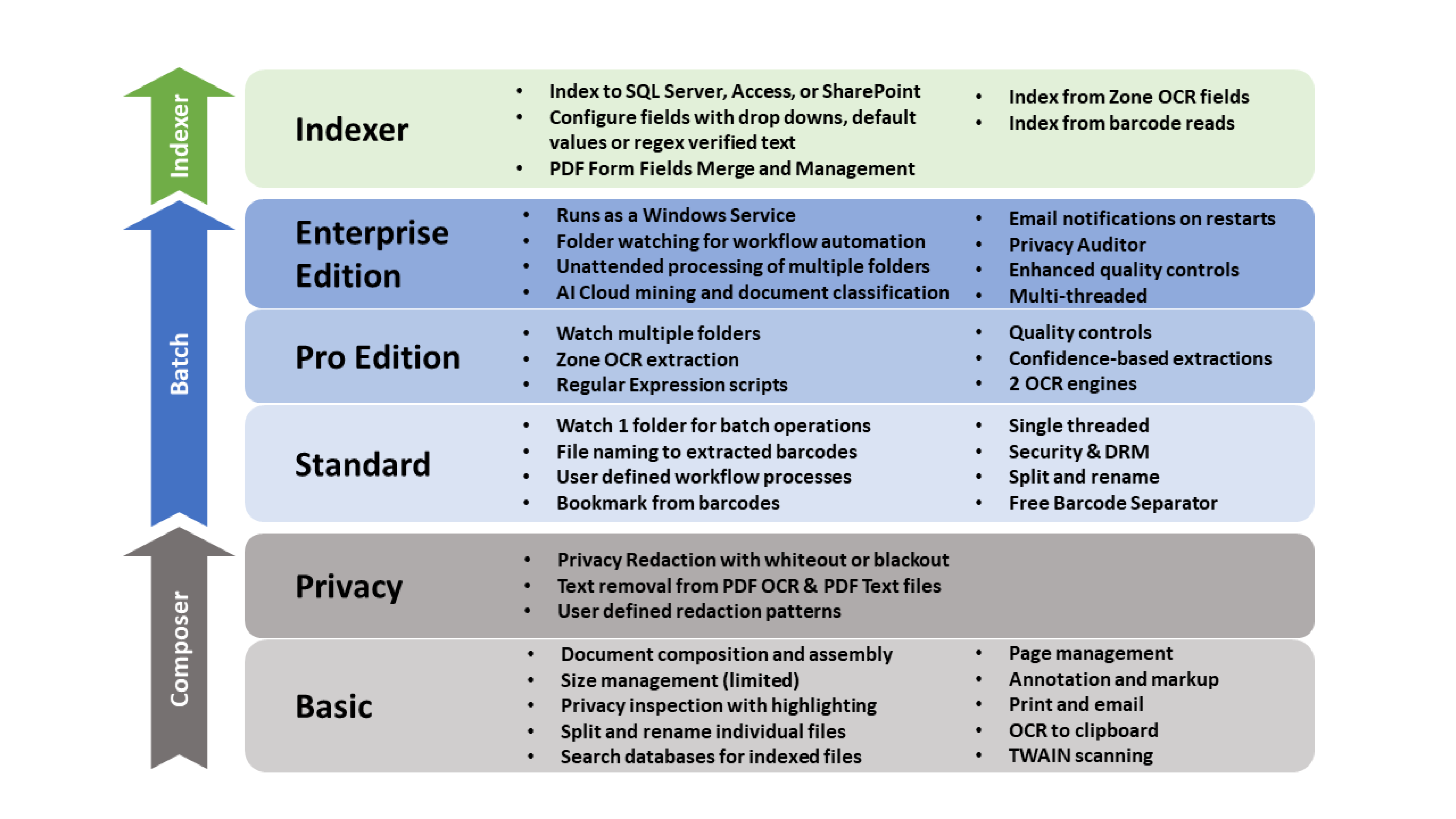 ImageRamp PDF Composer (Free to $495)

File importing from folders
Security and digital rights
File size management
Assemble and manipulate pages
Markup and annotate
File separation
Scanner integration

Easy file naming and storing
Barcode splitting and naming
Creates searchable PDF
Cover sheet creator
Image comparison with free ComPara
Privacy inspection and redaction ($ up charge)

 

 ImageRamp Batch Standard Edition $695

Watch 1 folder
PDF bookmarking
Split on barcode contains
Split on barcode Regex pattern
1D and 2D barcodes
Remote software setup

Export CSV of barcodes
PDF File Encryption and Digital Rights
FTP support
Assign profiles to watched folders
Includes ImageRamp PDF Composer for assembly and privacy redaction

 

ImageRamp Batch Pro Edition  $1,295

Watch up to 12 folders
Includes ImageRamp PDF Composer for assembly and privacy redaction
Unattended running as a Windows service
Autostart on reboots without logging in
Priority support
Email notifications on restarts
Database Indexing

Zone OCR Support
Regular Expressions for text mining
Registers with the Windows events log
All the functions listed above for Batch Standard Edition

 

 ImageRamp Batch Enterprise Edition $2,995

Multi-Threaded (Dual and Quad)
Privacy Auditing and Redaction
Email notifications on memory issues
Restart on crash and memory issues
Enhanced Quality Control Reporting
Multiple OCR engines

Supports windows servers
Emails you with details of crashes restarts or other problems
All the functions listed above for Batch Pro Edition

 

ImageRamp functions as defined for ImageRamp Batch Pro
Email requester
Natural language parsing

Analytics and visualization
Driverless scanner integration
Mobile capture