ImageRamp Family of Document Processing Automation and Document Capture Products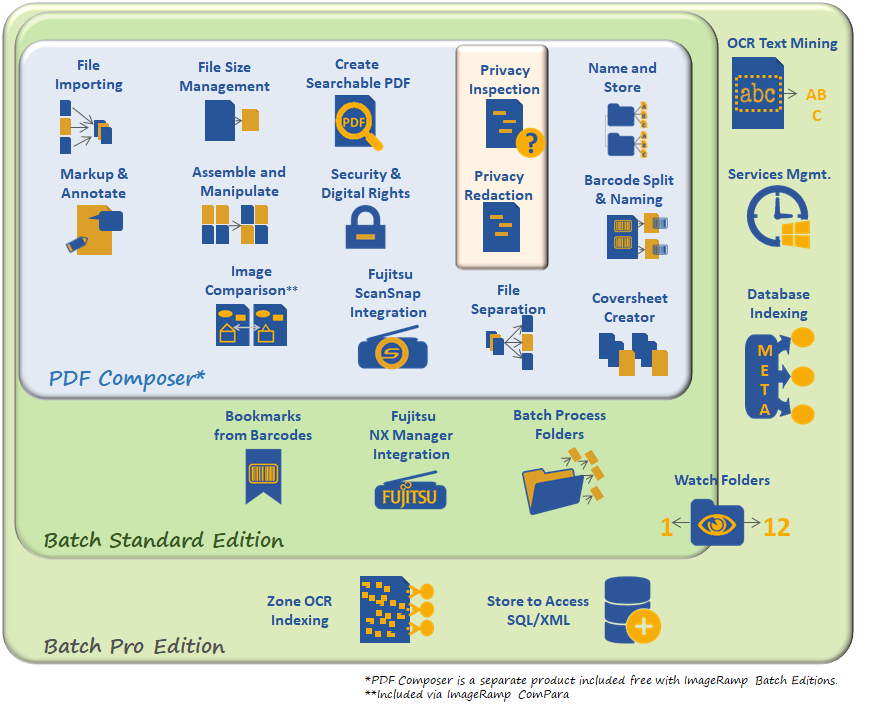 Simple, Scalable Document Process Automation Tools
The ImageRamp family of document process automation tools help automate your document workflows with ease. Complex tasks are made simple to intuitively secure and accelerate your documents throughout your organization.
---
 

Easily import PDF, Image, and Word documents into an easy-to-use environment to securely annotate, redact, encrypt and assemble your documents. Composer's Privacy Inspector detects potential document content that may require privacy data redaction. File Naming and Separation based on barcodes adds additional automation of document tasks with the Pro edition. Seamlessly integrate with desktop scanning applications like Fujitsu ScanSnap Manager. Includes free image comparison tool. Learn more.
 
ImageRamp Batch is a simple-to-use folder processing tool to automate your file naming and storage, indexing, and document capture into various EMR/EDR, document management or other secure storage environments. Whether you are extracting metadata through OCR or barcodes for file naming, splitting or routing, ImageRamp Batch easily integrates this information into your environment. Use Batch with your existing MFP copiers, scanners, or even preexisting PDF files by assigning Profiles or tasks to specific folders for unattended document processing. With ImageRamp, work in a network or cloud environment. Process a folder of documents on demand or set them to be "watched" for automatic processing. ImageRamp Batch delivers stress-free document processing automation. Batch adds intelligence and efficiency to maximize your investment in the scanning process using a dashboard style user interface for a minimal learning curve and maximum ease of use. Learn more.
---
ImageRamp Family of Products Key Features and Benefits: 
Free Tools
Composer PDF (with ImageRamp Batch) - Assemble PDF files from PDF, Image OR MSword files and add security or Privacy redaction.
Scan Separator (with all ImageRamp Products) - create barcode coversheets with this free tool.