Free OCR Text to PDF Converter with Side-by-Side Review
The ImageRamptm OCR2PDF utility, is a free tool to create searchable PDF documents from your scanned archives. Turn your unintelligent paper files into intelligent assets with this free, highly accurate OCR engine.  
Easily:
Load multi-page TIFF or PDF documents (free version is limited to the first 10 pages)
Convert and review the results in a unique side-by-side viewer
Use synchronized zooming and page flippers for easy page review
Use optional onscreen keyboard
Produce PDF files for easy printing as compatible cover sheets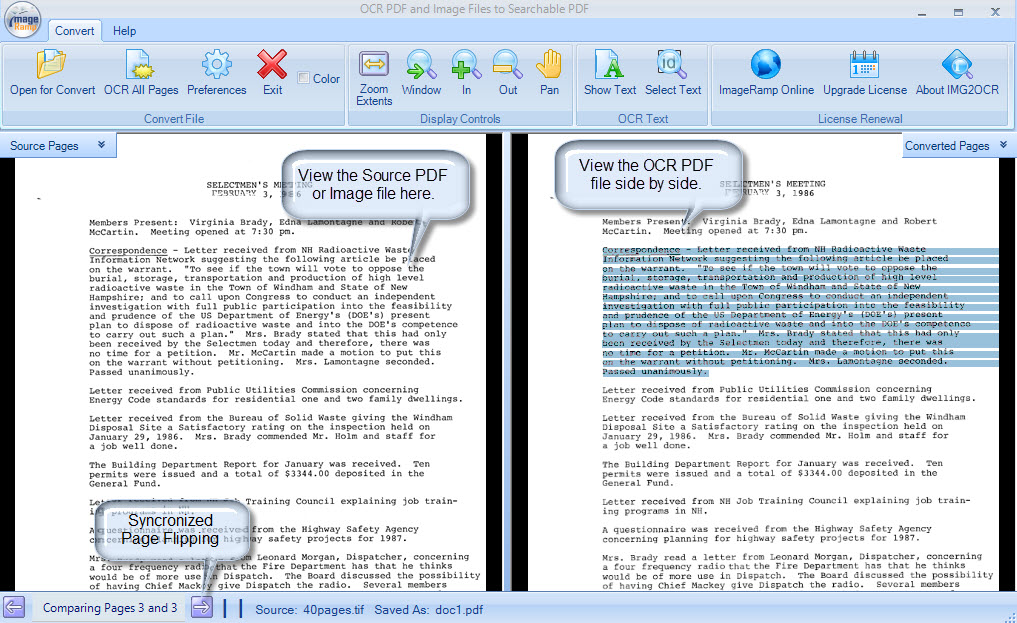 The ImageRamp OCR2PDF utility is simple to install and use in your environment. Use it to convert your paper archives into intelligent digital assets. 
Compare Free and Paid Versions

Free Version
Paid Version

Limited to 10 page files
Autorotate/Autodeskew
TIFF or PDF input
Synchronized viewing
Thumbnails and page flippers
Basic zoom controls
Foreign language support

No page limit
Multi-core CPU support for faster OCR processing
Set allowed characters sets
Auto invert black pages
Ignore underlines
Invert white on black text zones
Smooth character rendering
Detect image inversions
Simple-to-Use Searchable PDF Creation
Easy-to-Use

Two simple steps is all it takes to start your digital conversion. Open a file and start the OCR process.  It's that simple.  You'll be prompted for the output PDF file and away you go.
Step 1:  Open the source

PDF or TIF file

 

 

Step 2:  Start the OCR process


 
Unique Synchronized Viewing of PDF OCR Results

Once a file is converted you can easily review the results in the synchronized interface.  The original file is located in the left panel with the converted Searchable PDF file in the right pane.  Page flippers are available if multi-page files are found and you can navigate through the set with ease.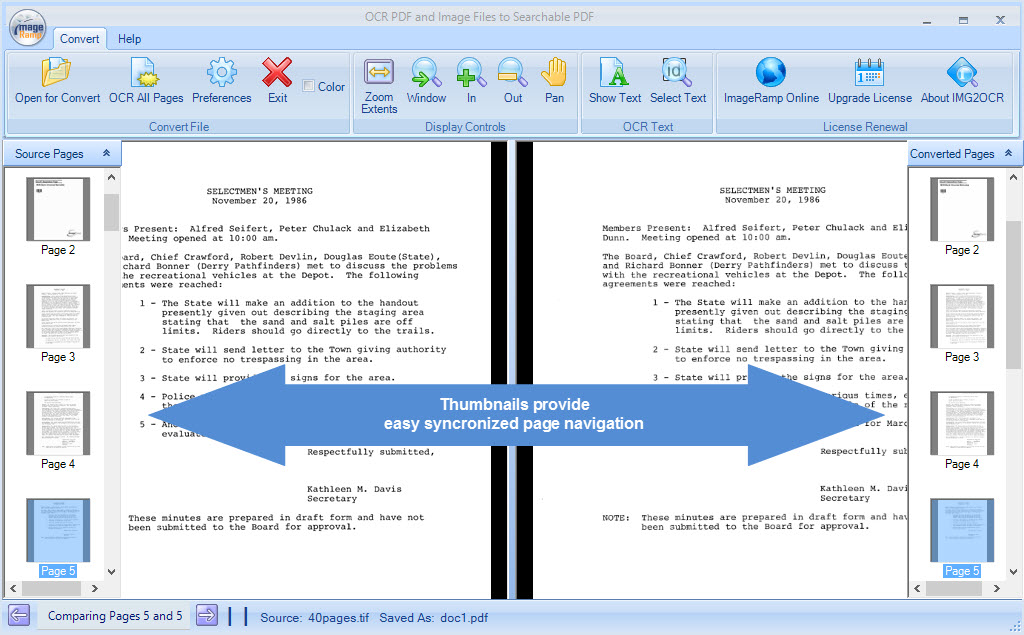 Review the Raw OCR Text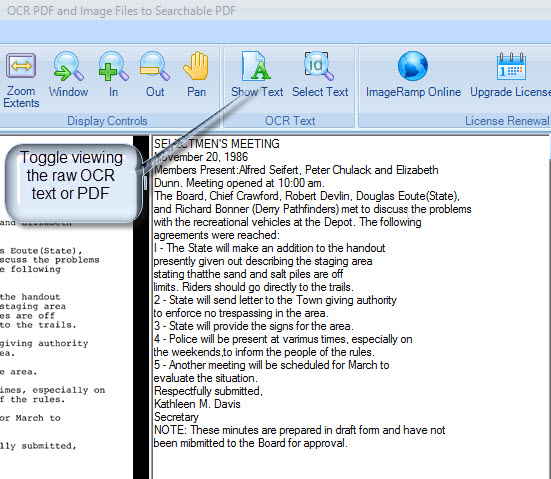 You can view the raw OCR text converted by the system to validate the OCR accuracy. For more accurate results, use the preferences settings to further improve on the text recognition accuracy.  
Upgrade 
Upgrading from the Free version
Read more at Improving OCR Accuracy
Full Featured Data Capture with ImageRamp
The Free ImageRamp OCR2PDF tool can be used as a standalone tool to OCR a TIFF or PDF File and create a searchbale PDF file. For full-featured data capture and document scanning checkout the ImageRamp Batch.