Importing Bulk Documents in CSV and ImageRamp
Common online tools for your scanned or PDF documents
Importing a large volume of files can be accommodated with the bulk importing feature (available to system administrators only). It is common for index data to be stored in a Comma Separated File in ".csv" or ".txt" format.
Format requirements
The CSV or TXT file must contain field mapping as the first entry in the list. In the example below, a field identified as DocCategory and FilePath are defined. One contains the contents of the DocCategory field, and the other is the file path for the documents.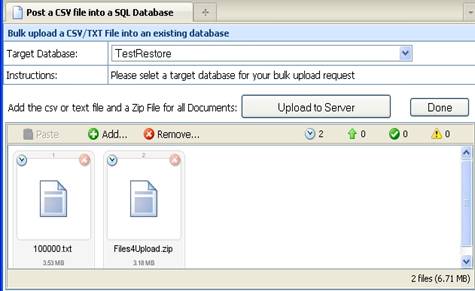 DocCategory,Filepath
2079952,\Crate 7\1400\Scan_0003.jpg
2079952,\Crate 7\1400\Scan_0004.jpg
2079953,\Crate 7\1400\Scan_0005.jpg
 
The file paths must be relative paths from within the CSV file itself. Common find and replace text editors can be used to pre-configure the data before the bulk import is executed.